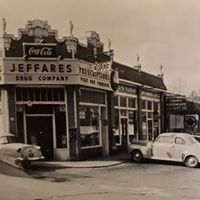 When I ask my neighbors what they love about Druid Hills, they will inevitably say, "the history." Ask me what I love about Druid Hills, and I will tell you that it is not only the history of the neighborhood, beautifully designed by Olmsted and molded so much by the Candler family, but the people, their families, and the stories of growing up in these homes. If only the walls could talk, and share the stories of the families who grew up in them.
Our first house was on Princeton Way. My husband and I moved to Atlanta from NYC, and Atlanta was a clean slate to us. Somehow, we stumbled on Princeton Way (although at the time, our realtor insisted on showing us only homes in Morningside, Virgina Highland, and Garden Hills.) In 1988, there were still a number of the original residents on Princeton Way (the neighborhood was built in the 1940's). These dear neighbors took me under their wing. I knew nothing about gardening in Georgia red clay soil, and they invited me to join their Garden Club and shared their plants and gardening tips. Princeton Way has one of the secret "pocket parks" in the middle of the circle, and soon, I was passed the baton of organizing the neighborhood picnics. Princeton Way taught me everything about how to be a "neighbor". The neighborhood was turning over, with more and more young families moving in. We had baby playgroups, and potluck dinners, and Halloween hayrides. I organized the first Neighborhood Association. But one of the greatest gifts from these neighbors of mine, was learning about the history of the neighborhood, both in written form and oral. Arthur Hutchins, was Georgia's first GBI agent, and Rev. Dickson grafted camellias and Tom Penland was a beloved Scout Leader.
When we outgrew our house, we moved to Oxford Road, to a house built in 1925. As so often happens, a previous resident, curious about the home they grew up in, knocks on the door. Dick Diamond, whose Grandfather built our house, became an instant friend, and his memory of growing up in Druid Hills, on Oxford Road, and in the house, was endless! He attended Antoinette Johnson's Out-of-Door's school on Oakdale Road, he rode horses down Briarcliff and Clifton when it was still a dirt road in many places. He remembers the trolley car going up and down the street. And he opened in me, a curiousness about the history of Druid Hills, that has now morphed into a bit of an obsession.
So, if you are interested in the history of Druid Hills, I hope you will follow my DRUID HILLS FACEBOOK page. And, if you are interested in sharing your family's history, give me a call!